About
The saying goes that it takes 10,000 hours of something to become an expert, and boy have we done our share of the legwork; 10,000 hours of negroni, 10,000 negronis - sipped, sealed, delivered. And life is too short to drink bad negroni…
We're in the business of mouth-bangs. Stay with us. What started its life as an 'in' joke between the four of us - creators of Stuzzi restaurants in Yorkshire, Jimbob, Harvey, Brett & Tom - born out of sleep deprived delirium and alcohol while we were setting up our Harrogate restaurant, which gradually transferred into wider consciousness.

It mistakenly made its way onto menus, appeared in social media captions. Made its way from a phrase we muttered to each other in private to one that was thrown about daily by the whole Stuzzi family. But it truly encapsulates everything Stuzzi is about. And after 8 years of bringing delicious solid mouth-bangs to the people of Yorkshire, our feet got a little itchy.

Being content isn't something we are very good at. We are constantly looking at what is next. What can we do better, how can we push forwards, how can we improve and evolve. From the start of the Stuzzi journey, we have always tried to make as much as possible in house. We make our own pasta for both restaurants; we bake our own bread; all our pastry and desserts are also made daily.

So what was next?With our two restaurants closed during the lockdowns, we had time to drink – but also think. While supping lockdown Negroni after lockdown Negroni, we realised: they make as much produce in-house as possible, surely they could create a gin to make the world's most popular cocktail (whisper it) even better?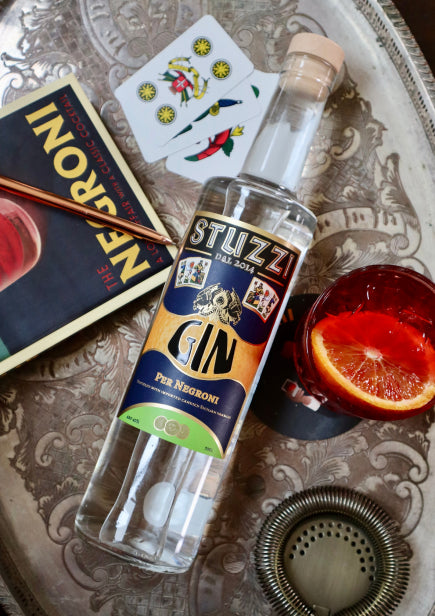 The Definitive Negroni Gin
When it comes to Per Negroni Gin, you of course can't beat an ice cold, perfectly balanced definitive Negroni. However, variety is the spice of life, and here are some of our favourite (other) ways to drink Per Negroni Gin.
Shaken. and Stirred
Nowhere to hide
There are only three ingredients in a Negroni: equal parts gin, Campari and vermouth. You need each one to be bringing the best possible flavour for a three-way to remember. It's a drink that is more than just the sum of its parts, but for a Negroni to remember, you need to start with the foundations, and for us, that meant creating a gin that suited the cocktail perfectly.

Competing with big flavours, we had to make sure the liquid complemented and enhanced the world-famous drink. And as ever, it had to be a mouth-bang. Months of tasting, trialling and negroni drinking ensued - a hard life, but someone had to if we were to get the perfect gin to fans of the Negroni - and soon, the liquid was born. Stuzzi Gin Per Negroni.
It started with an orange
As any good Negroni lover knows, you can't beat a classic Negroni garnished with orange, be it a wedge, slice or a twist, and some of the highest quality citrus fruit is grown in Sicily, so this was our natural starting point. To make sure our gin makes its presence felt, we wanted to add a little sweetness, to help it cut through the bitterness of the Campari, so instead of just using orange peel like many other gins do, which adds a bitter element, we instead chose candied Sicilian oranges as our lead botanical.

We have also used bergamot, another Southern Italian citrus fruit, that brings citrus and perfume, then Italian liquorice root, orris root, lavender & cinnamon bring classic gin elements like spice, bitterness and floral flavours, which help to amplify the character of the vermouth. And oh yes: it's cut with the greatest water in the world… Yorkshire water.
La Dolce Vita, Yorkshire Style
As a result, our gin lifts the negroni, rather than working against it. A negroni made with Stuzzi Gin isn't a twist on a classic, it's turning the volume up. It almost softens the initial bitter punch, making a dangerously drinkable cocktail with layers of flavour. It's our best interpretation of the classic. It takes a Negroni and cranks the volume up to 11.

It's a bitter, sweet symphony – played LOUD. And we think it's a game changer for negroni lovers. It's, to put it simply, a mouth-bang.

La Negroni vita,

Jimbob, Harvey, Brett & Tom